Used 1969 Olds 98 4 Door Luxury Sedan for sale in Imperial, NE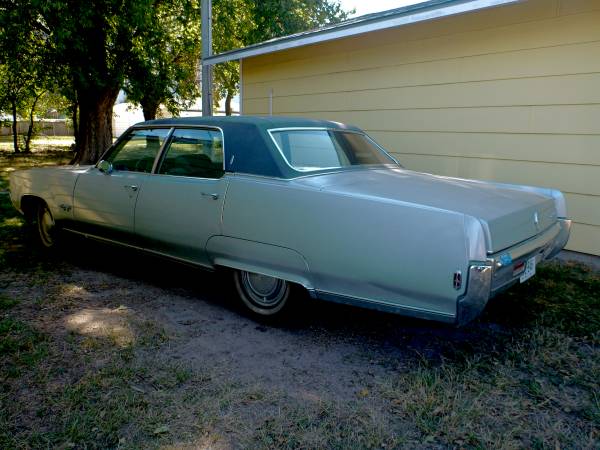 Vehicle Description
'69 Oldsmobile 98 Luxury Sedan in very good condition. Blue/gray exterior, dark blue vinyl hardtop. The body is very straight with no rust. Interior is very good. Since it was the top-line Oldsmobile, the series had the most technologically advanced items available, such as the Hydramatic automatic transmission, the Autronic Eye, an automatic headlight dimmer, and Twilight Sentinel (a feature that automatically turned the headlights on and off via a timer, as controlled by the driver), and the highest-grade interior and exterior trim. This particular vehicle was used locally by a funeral home to transport family members. 88,999 original miles. Runs Great!

Automatic transmission, power steering and brakes, power windows, clock, padded dash, foam padded seats, parking brake light, Deluxe steering wheel, special wheel covers, windshield washer and two-speed electric wipers, courtesy and glovebox lamps, and front seat belts. Tire size is 8.55 x 14 inches. Windshield is cracked.

This car is being sold as part of an estate sale in Imperial, Nebraska (put on by New Ventures Estate Sales). The sale runs October 24 through 27. The car will be available for inspection and purchase on those dates. If you would like to inspect the car before the sale dates please contact us and we will attempt to accommodate you.

There will also be a beautiful 1956 Ford Fairlane 500 available at the same sale.


Vehicle Details
Similar vehicles
1964 Oldsmobile 98 in Imperial, CA
I have a 64' Oldsmobile 98. It is as complete as it gets. Needs very little to be on road. Stainless is straight. Body is straight. (Couple small d...
Recently viewed